What do you want to say to writers interested in the residency program?
When I was selected for the Artist-in Residency Program to board the icebreaker , one of those who told me about the joyful news at first was my Japanese friend, Sho Hasegawa. We began life in Germany during a similar period and first met each other in one language center located at Berlin. The reason to talk each other in clumsy and stammering German language joyfully and to become friends was our common point to work in modern arts. It was so exciting and anticipating to visit the North Pole by the icebreaker vessel that I sent E-mail to Sho with a heart to boast as much as I could. ''Lieber Sho,,,Dear Sho." I wrote a load of pride as he was a friend I could get something out of the chest. Less than a day, he replied to me. "Hey Jaewon, I really congratulate that you can go to the North Pole…one month? I envy you really. You will travel by icebreaker indeed... However, in fact, I went to the South Pole last winter." It was an unexpected reply. He ostentatiously attached photos of the project which was conducted at somewhere of the South Pole. My friend participated in the first Antarctic Biennale held in the region of South Pole last year. Even I felt before, he was the man of quick action.
Now, let us ask questions for ourselves. Why do artists go to the North Pole? What can they do with scientists of geophysics? What does it mean for artists to exchange with new places or other fields actively? The above questions have been told and heard mostly from people around you. In fact, reflecting the past, several fields of politics, science, arts, literature, music, and poem have influenced each other naturally. For a piece of example, there is a surrealism that has received the influence of psychoanalysis to reflect the unconscious world actively on the art types to realize it. Also, when intellectuals of entire European region took a skeptical and critical attitude upon human history while going through the era of the world war, artists strictly denied and mocked at previous value or order and created the art campaign of DADA. Such artistic movement has continued its context in today's modern literature and influenced all over the territories of image medium or arts, architecture, furniture, design and fashion. Likewise, the arts have accepted other fields actively and reacted sensitively to the social change. Accordingly, I also used to meet people of other fields intentionally and habitually. Living in Germany, I had many opportunities to meet from several communities Korean researchers who were in PhD program or who had already finished the program.
It is nothing but highly joyful to exchange with various researchers of theoretical physics, psychoanalysis, cancer cell research, satellite development, mathematics, and linguistics and visit their research spaces. It actually inspires the works. I am not sure if they could also be inspired by me. I willingly drink wine with an artist uniquely known to me. The life on Araon will end in a few days. Last night, I knocked the door of one researcher to drink a glass of Soju. But I heard the same words here again. I was the first artist he ever met in his life. We had a small talk over different topics. In this way, I heard many stories of researchers for the past 20 days. Mainly, I tried to ask questions. Because for such a short time I wanted to feel the world where researchers live. There are many knowledges to contact with such as from the common sense of general geophysics, the theme and type of professional research in progress by an individual person, the operation principles and roles of machineries, the measurement of physical properties in geological layer or seawater layer, the circulation of heat or carbon in living organisms and marine environment. When I confirm sediments with my own eyes and touch them that the ship marks the coordinates to collect; and that look like the exceptionally dark blue ocean, it seems like I'm traveling in time back to the Ice Age.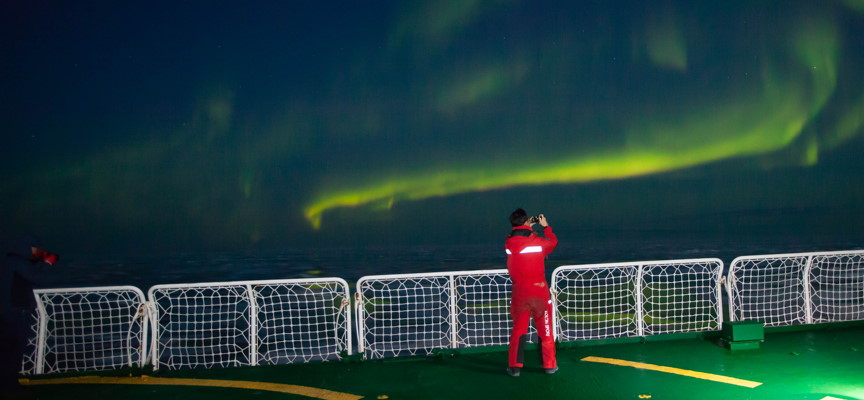 04.
Aurora appeared in the wide black air, and the colorful curves, beautiful volume, and colors of the sky were burning through the sky from the west to the east end.